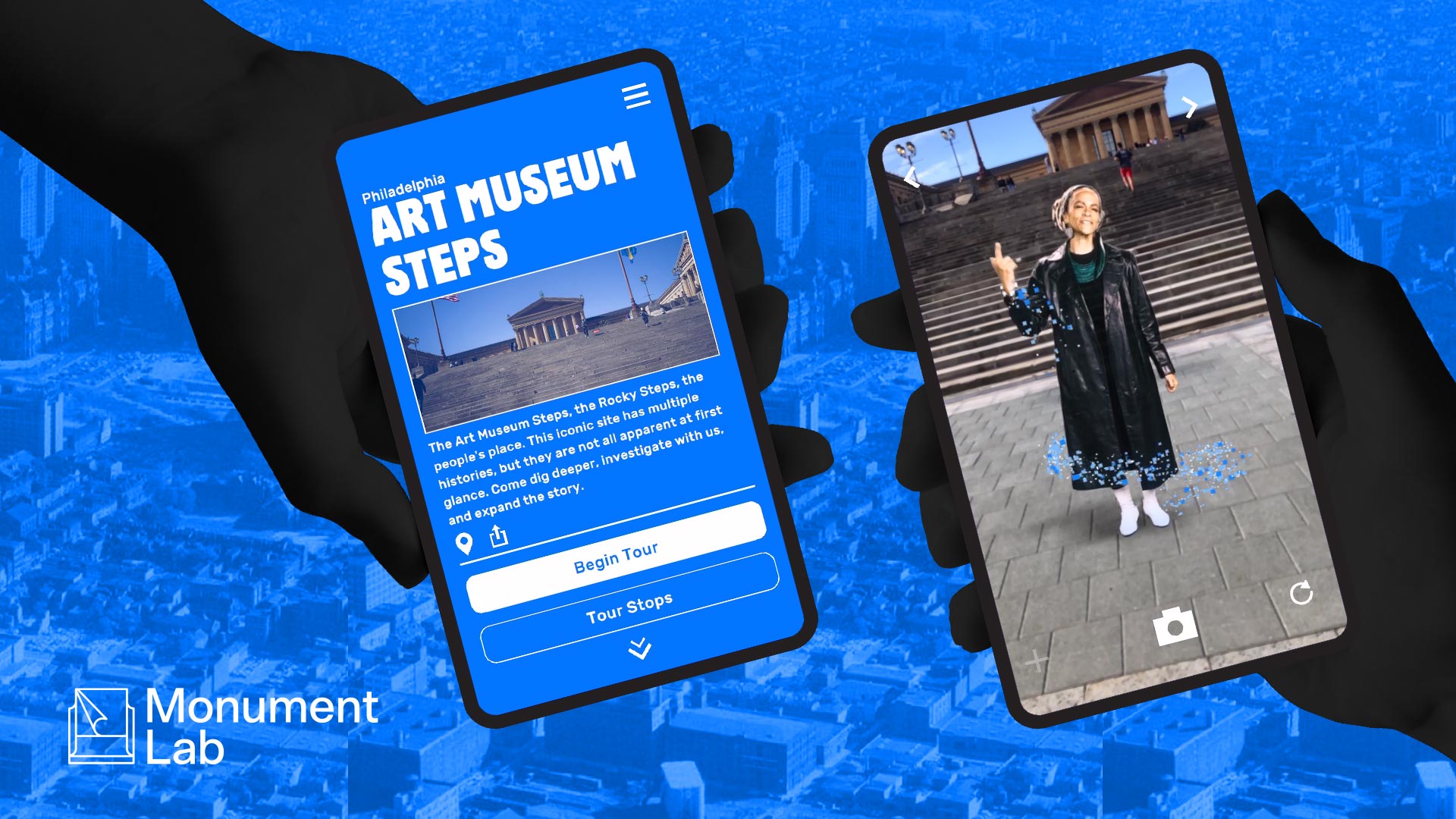 OVERTIME AR
Augmented Reality Experience
Client:
Monument Lab
Agency: Dream Syndicate
"People don't put museums out in the streets, but they should. And we are."  Nothing sums up this project better than this one line, spoken by host Ursula Rucker, Poet & Artivist, in the opening experience of OverTime AR – an Augmented Reality app produced in collaboration between Monument Lab and Dream Syndicate.  
The multi-year project started as a call for proposals from the Knight Foundation that would be relevant to their Smart Cities initiative.  Paul Farber, Director of Monument Lab, jumped at the opportunity.  "I brought up a *very early* idea we had been cooking up – a tool for Historic Preservation that would use AR to map the "changing present." Data would be drawn from the Internet Archive, historical archives, face to face interactions, and open data. It would be piloted on a block in Philly." 
A research team was formed, consisting of members from Monument Lab, The University of Pennsylvania's Center for Public Art and Space and Penn Praxis, and Dream Syndicate.  Over the course of the next year this team collectively evaluated a multitude of locations, from Chestnut Hill to South Philadelphia, and grappled with forming complex ideas into concrete experiences.  "We knew AR was the right medium for this project, but the challenge was how to use it effectively in representing very weighty ideas.  How do you make an interactive visual experience that clearly illustrates the mutual effects that location and space, and community have on each other, and how that evolves over generations?  It was a fun challenge to wrap our heads around."  – Ben Carter, Dream Syndicate.  
The Art Museum Steps was identified as the perfect location in the end – a true mix of public space, public art, and public discourse, with a history spanning hundreds of years.  With the "where" finally set in stone, Dream Syndicate got to task developing the "what" while the Penn and Monument Lab teams rapidly researched and organized all the data that informed the "why".  
Ursula Rucker was brought in to provide the voice, and act as our guide, an important human element to an otherwise all digital experience.  "We shot Ursula in our green screen studio, mere blocks from the Art Museum steps, which gave us a huge amount of control over the product and process.  And it was truly amazing working directly with her, giving life to these ideas we had been talking about for so long." – Howard McCabe, Dream Syndicate.
After wrapping production, and with fully formed concepts plotted out, development of the app and experiences took off at a breakneck pace, coalescing over just a few short months.  "All of a sudden, almost overnight, we had the entire team working on OverTime.  It was a sprint from start to finish.  Everyone was eager to see all these concepts come to life and thankfully we had a great team to work with at Monument Lab, which made the process so much easier.  Will Hodgson did a fantastic job on the app design, which also had a huge influence on the AR experience design.  The collaboration was critical in getting it all done quickly." – Matt Tidridge, Dream Syndicate.
Over Time AR features five unique AR experiences, including: Living Timeline, where users can literally walk through time, chronologically or atemporally; City Sightlines, a collection of interactive historical maps set in front of the best backdrop the city has to offer; Statue Stories, a whole new way to experience the iconic Rocky statue (and skip the line!); as well as the artistic and ever-poignant prose of Ursula Rucker throughout.
"This project was a great opportunity to work with Paul and Monument Lab and to expand our oeuvre further into the public arts and community service world, which for us has been supremely gratifying". – Howard McCabe, Dream Syndicate.
Over Time AR was funded by a generous grant from The Knight Foundation, brought to you by Monument Lab and Dream Syndicate.  Check it out on iOS and Android as OverTimeAR.  To quote Ursula Rucker once more – "Let's keep making history.  Keep in touch at Monument Lab.com, or on the social @Monument_Lab.  Peace and love."


Dreaming is an act of pure imagination, attesting in all men a creative power, which if it were available in waking, would make every man a Dante or Shakespeare. – H.F. Hedge