Rawlings NFT Campaign
Strategy, design and development of a 360 Campaign matching physical collectible baseball gloves to digital NFTs
Client: Rawlings
Agency: Dream Syndicate
Dream Syndicate took Rawlings collectible baseball gloves to the next level with this first-of-its-kind NFT drop. 
Rawlings Sporting Goods, who manufacture the official baseball glove of major league baseball, wanted to future-proof their business by expanding into the emerging market known as "The Metaverse". But, they needed help navigating the complex landscape of modern technologies, platforms, and marketplaces to identify a suitable entry point.  So, we got to work probing any and all possible avenues for Rawlings to grow their physical product-based brand in this new digital-only space. 
We developed strategies for utilizing Augmented Reality in pre and post-sale consumer engagement, growing brand recognition through activations in networked socialized gaming platforms, and opening up a brand new avenue of brand engagement and sales through the Web3 space – which was ultimately the best fit for Rawlings' goals.  
Thus was born the Rawlings PRIMUS NFT collection – a limited edition series of 461 NFTs tied to real-life baseball gloves – featuring four tiers of rarity, individually stamped models, and one-of-a-kind designs for both the NFTs and physical glove collectibles. The ultra-rare, limited edition physical gloves were designed and manufactured exclusively for this NFT drop, and will never be made again.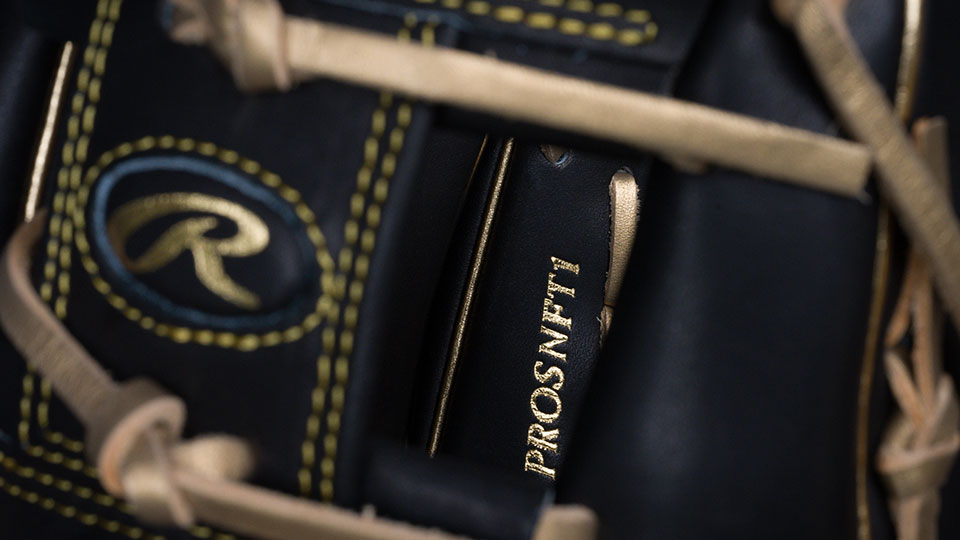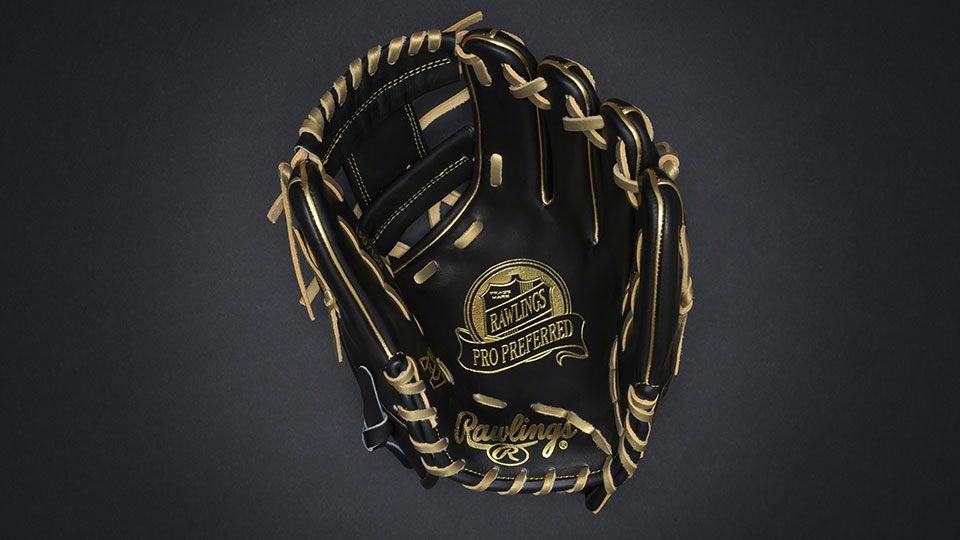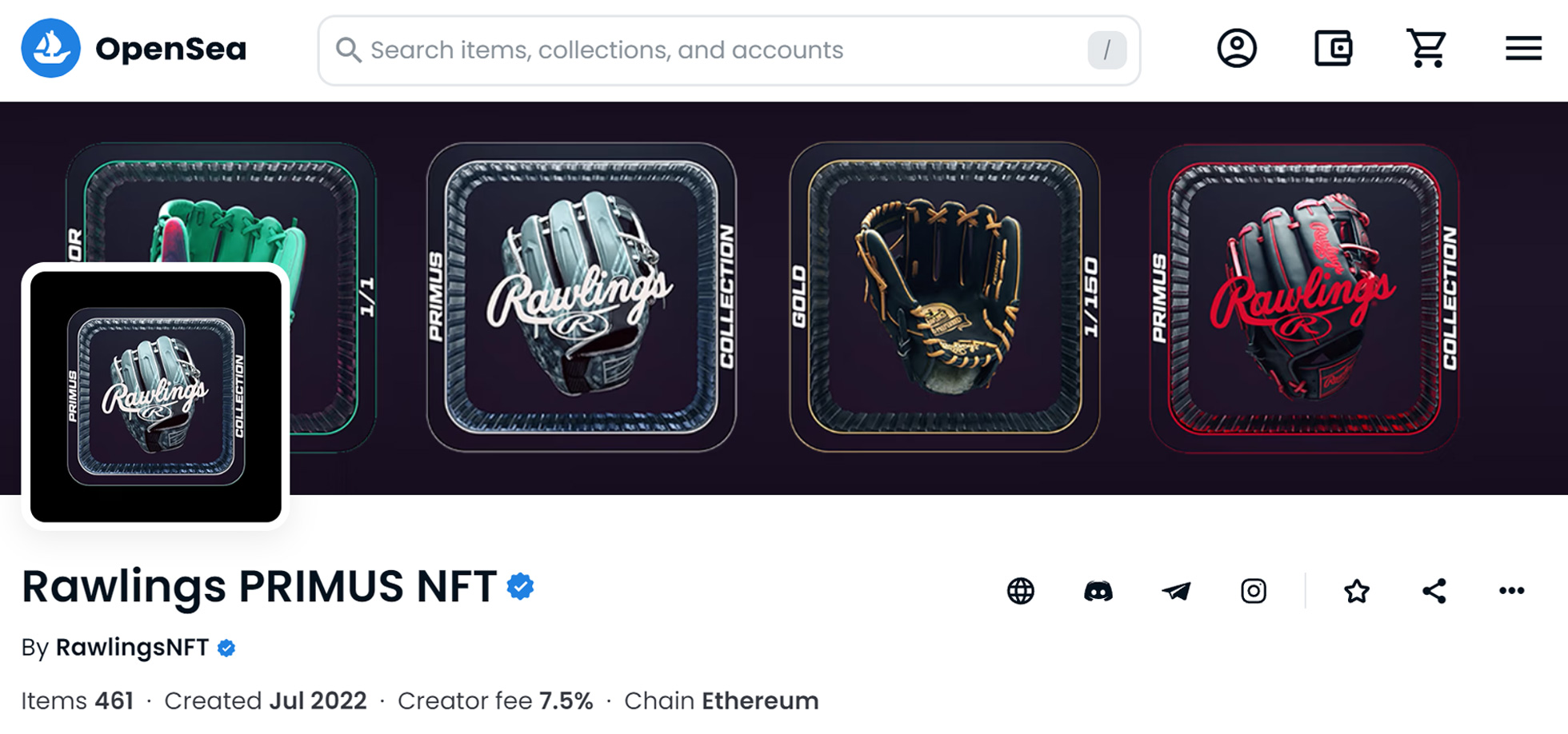 The PRIMUS NFT collection dropped on OpenSea, the leading NFT marketplace, for purchase with the cryptocurrency Ethereum (ETH). The first round of sales were conducted as private "allowlist" transactions for active Rawlings NFT community members on Discord.  Each NFT purchase included an unlockable AR USDZ of the corresponding 3D NFT. Download the USDZ Lindor NFT to experience it in AR! PRIMUS NFTs were also available for purchase through the Rawlings.com ecommerce website for non-web3 savvy collectible glove enthusiasts. 
For Rawlings, Dream Syndicate provided a turnkey solution for this project – including pre-launch, launch and post-launch strategies for production, execution, promotion and community building.
Our team designed and produced the animated 3D NFT graphics for the collection using photogrammetry scans of the physical gloves for complete accuracy. The NFTs, and corresponding physical collectible gloves, were produced in four distinct tiers of rarity: Pro (300 editions), Gold (150 editions), Platinum (10 editions), and The Lindor, a one-of-one NFT and glove designed and signed by NY Mets' Francisco Lindor. Each NFT is custom numbered to match its physical counterpart for a truly one-of-a-kind digital collectible.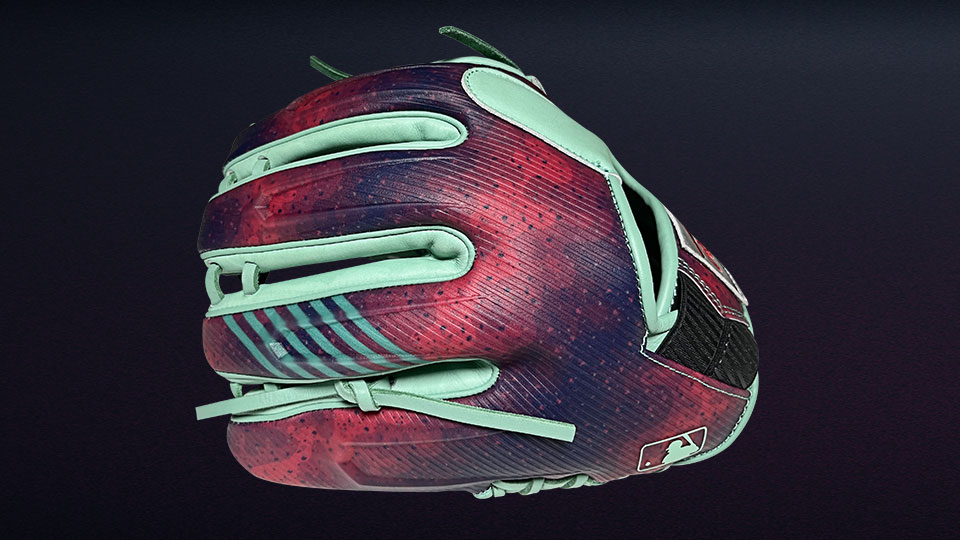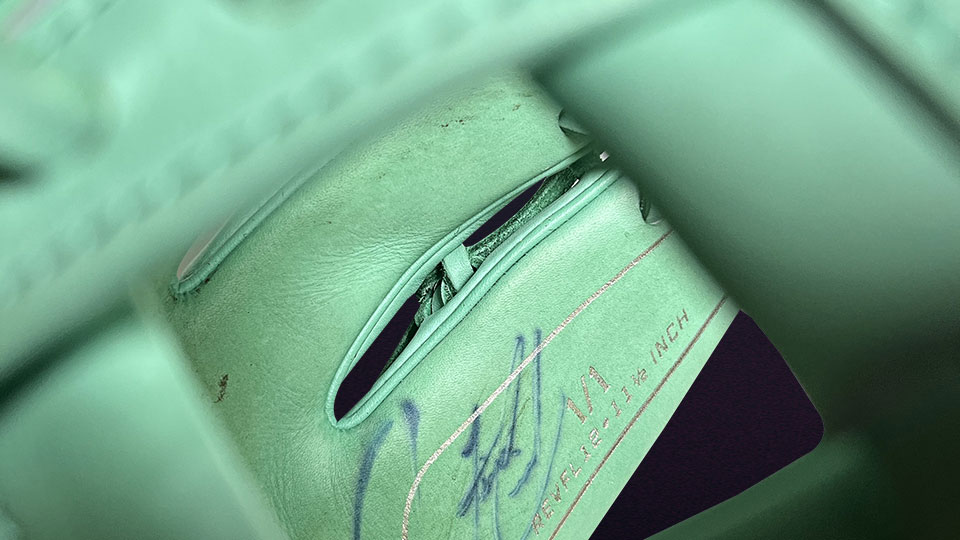 We designed and produced promotional assets and created a promotional calendar with targeted messaging for social media platforms, banner ads, and email blasts – including teaser videos, pre-reveal NFT graphics, glove photography, a robust social media asset kit, contest and giveaway announcements, and much more.  We designed, created, and managed the Rawlings Discord server, the primary method of communication for brands in the web3 space, for community engagement, project updates, allowlist management, and custom swag giveaways. Our team executed social media promotions and contests through Discord to build excitement and engage with Rawlings fans throughout the lead-up to, and immediately following the NFT drop. Engaged members of the Discord were able to purchase their PRIMUS NFT before the public launch as part of the pre-sale 'allowlist' release.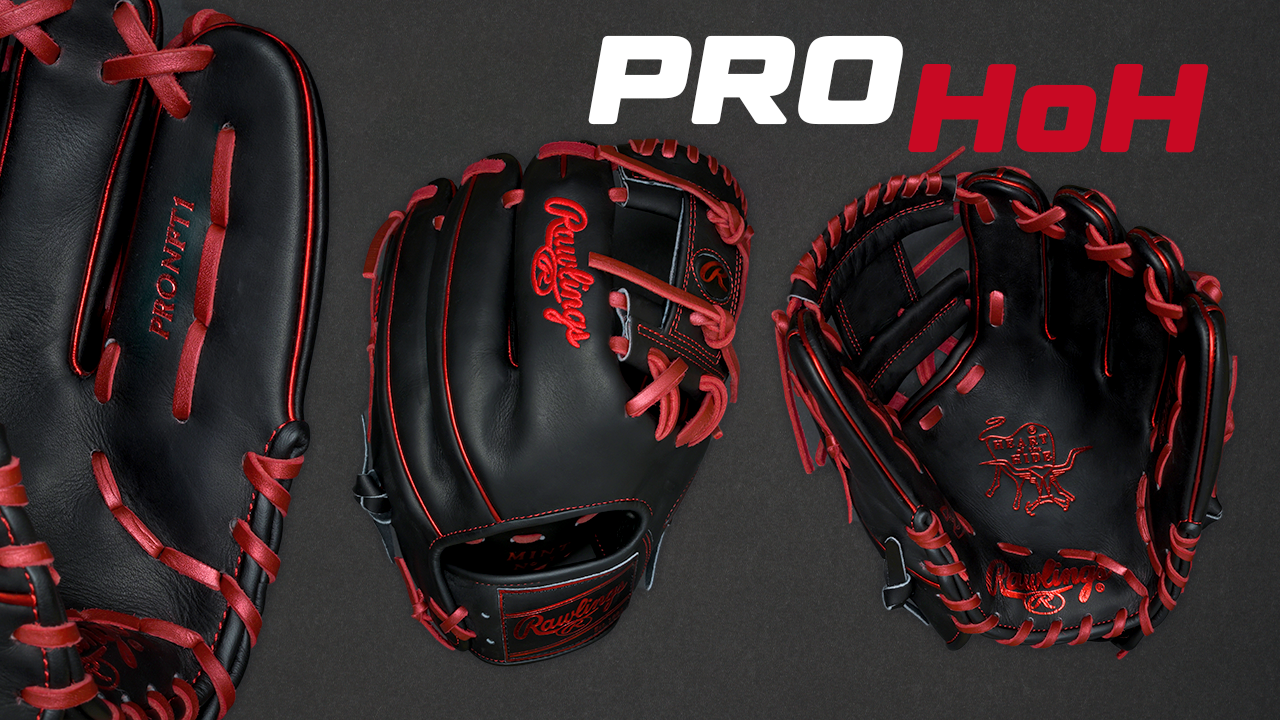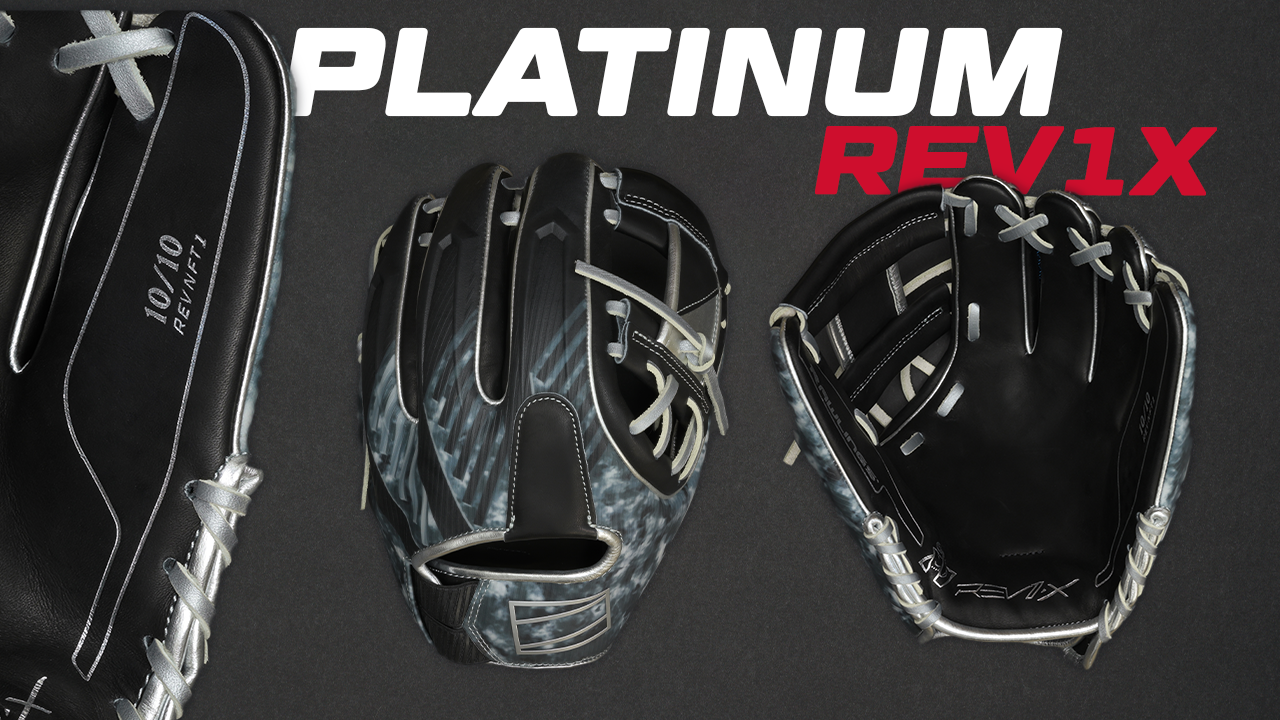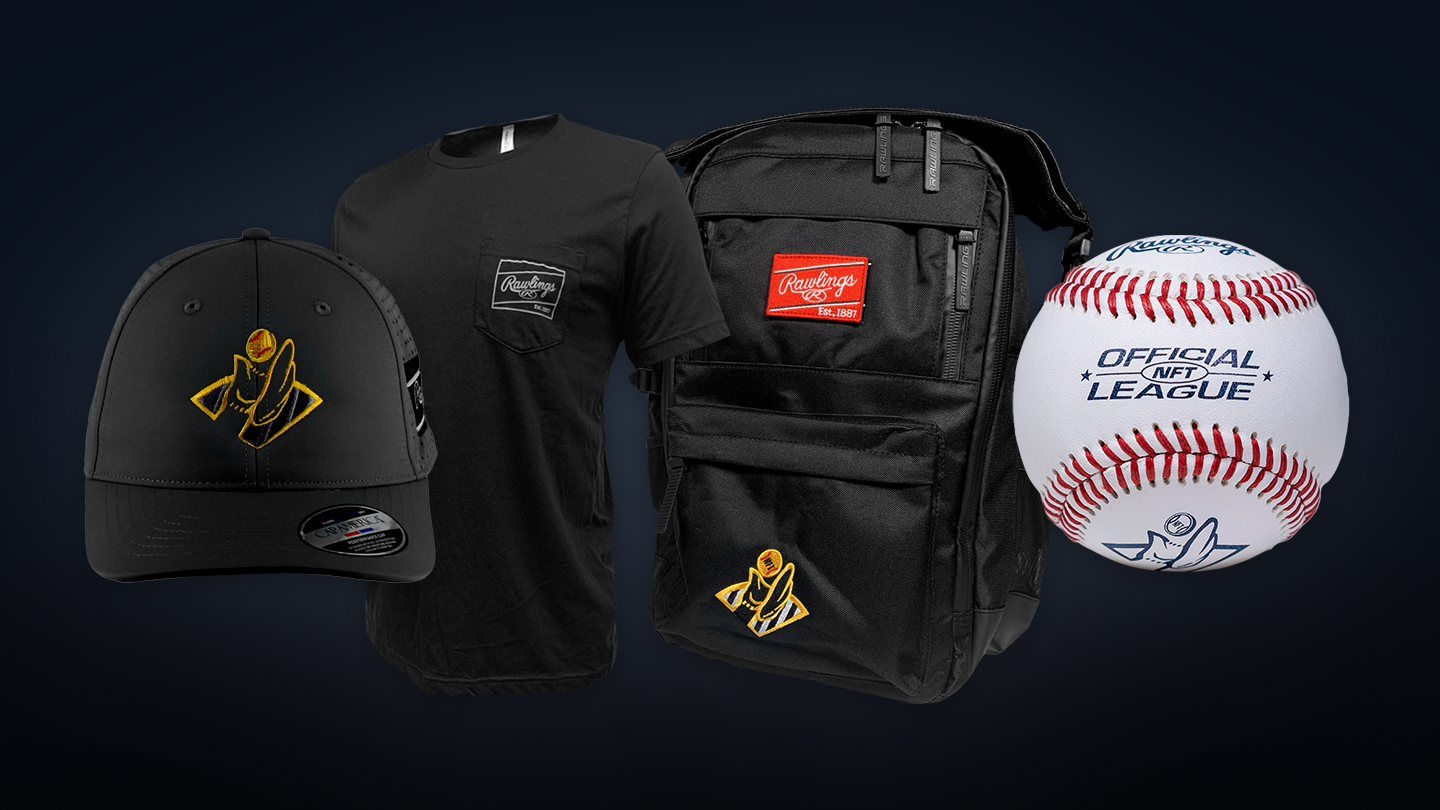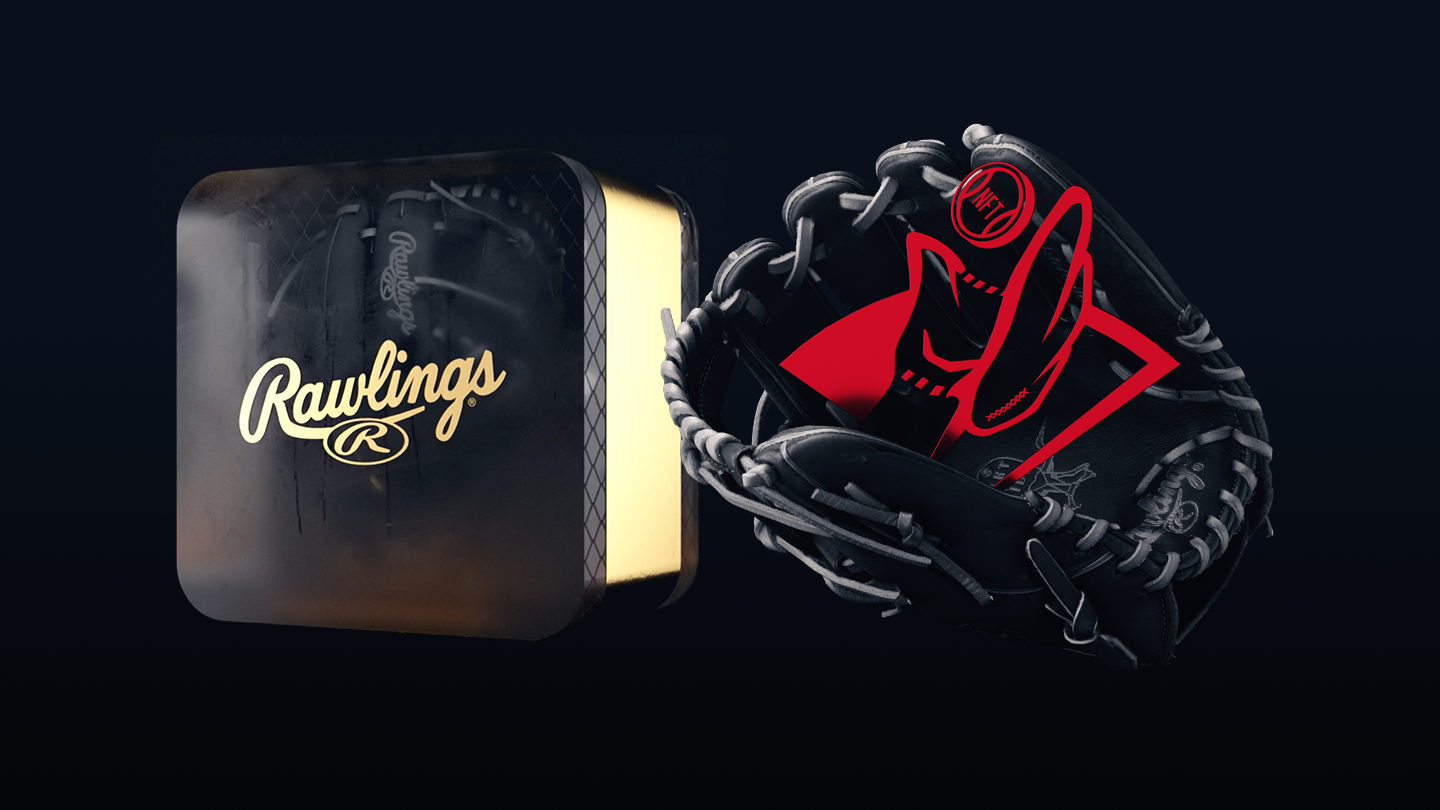 Our team also designed and developed a microsite which acted as the home base for the PRIMUS NFT project. It included information about the NFT drop, imagery of the NFTs and gloves, a preview of the AR unlockable, a project roadmap, FAQ, and more. A product detail page featured additional glove photography and glove details.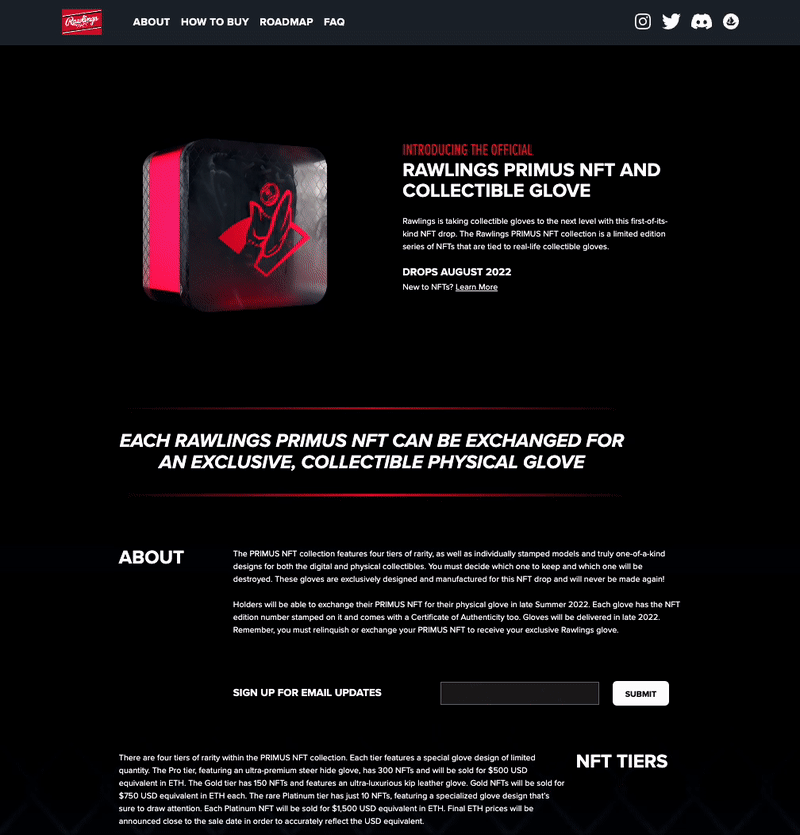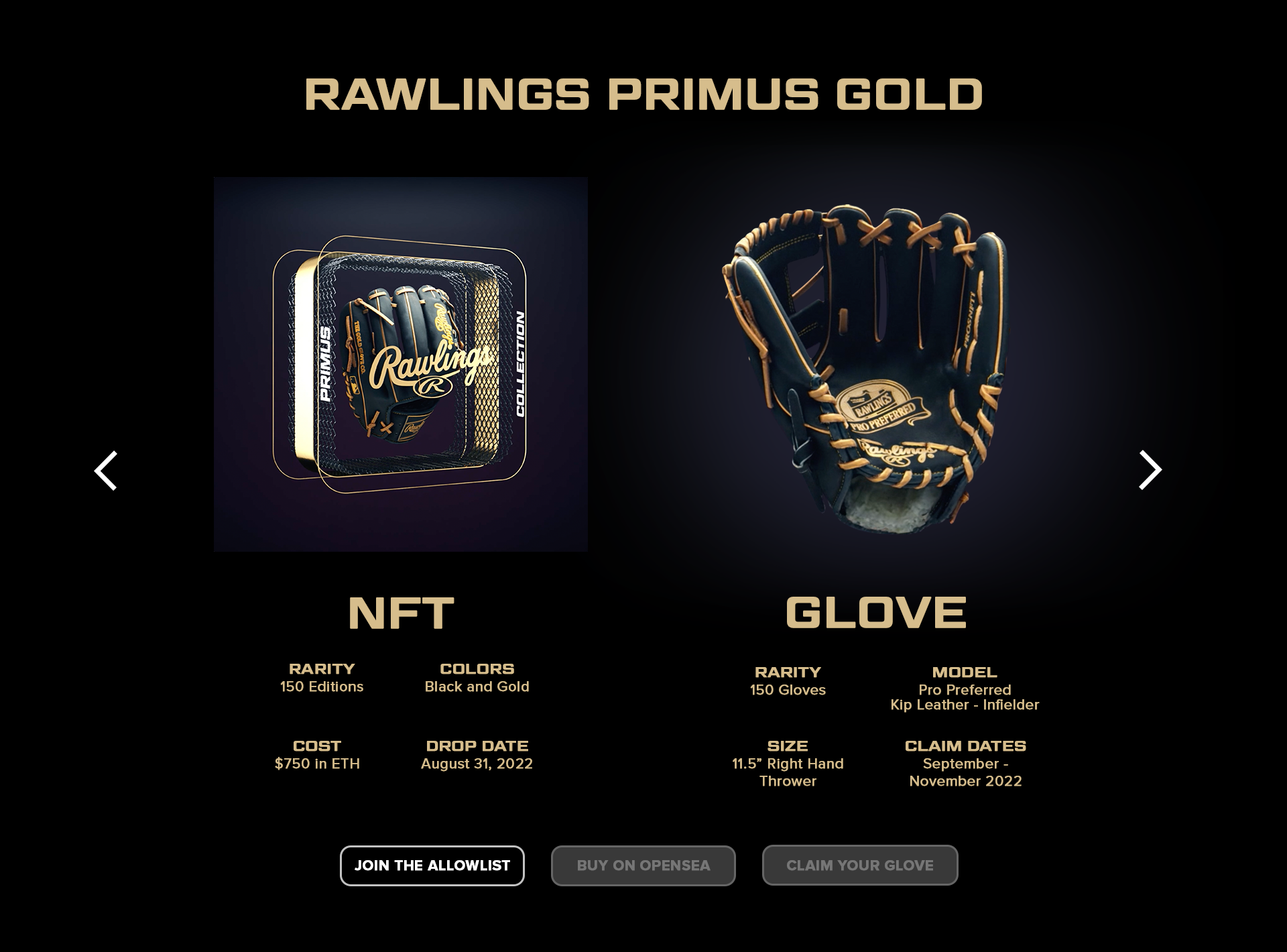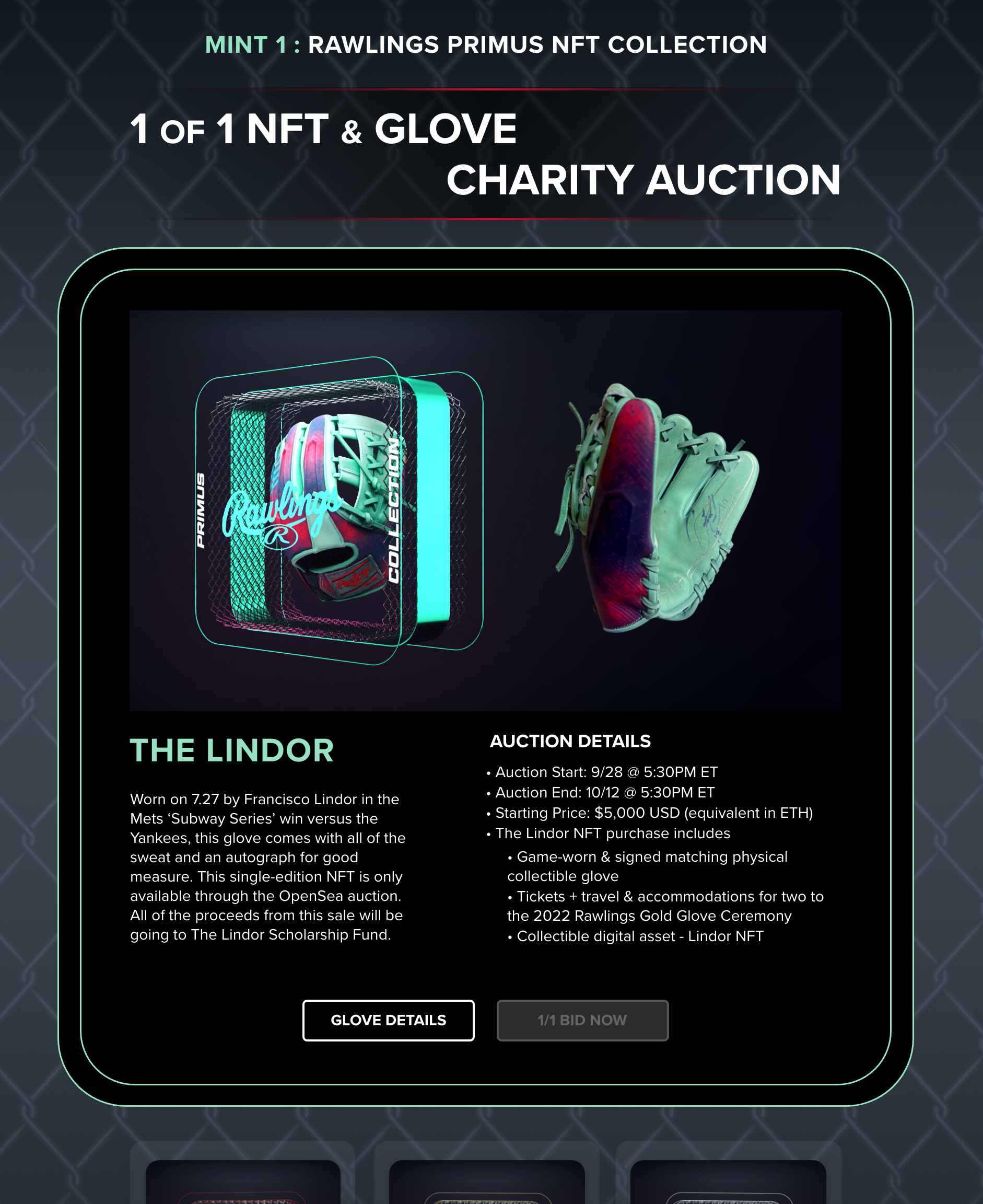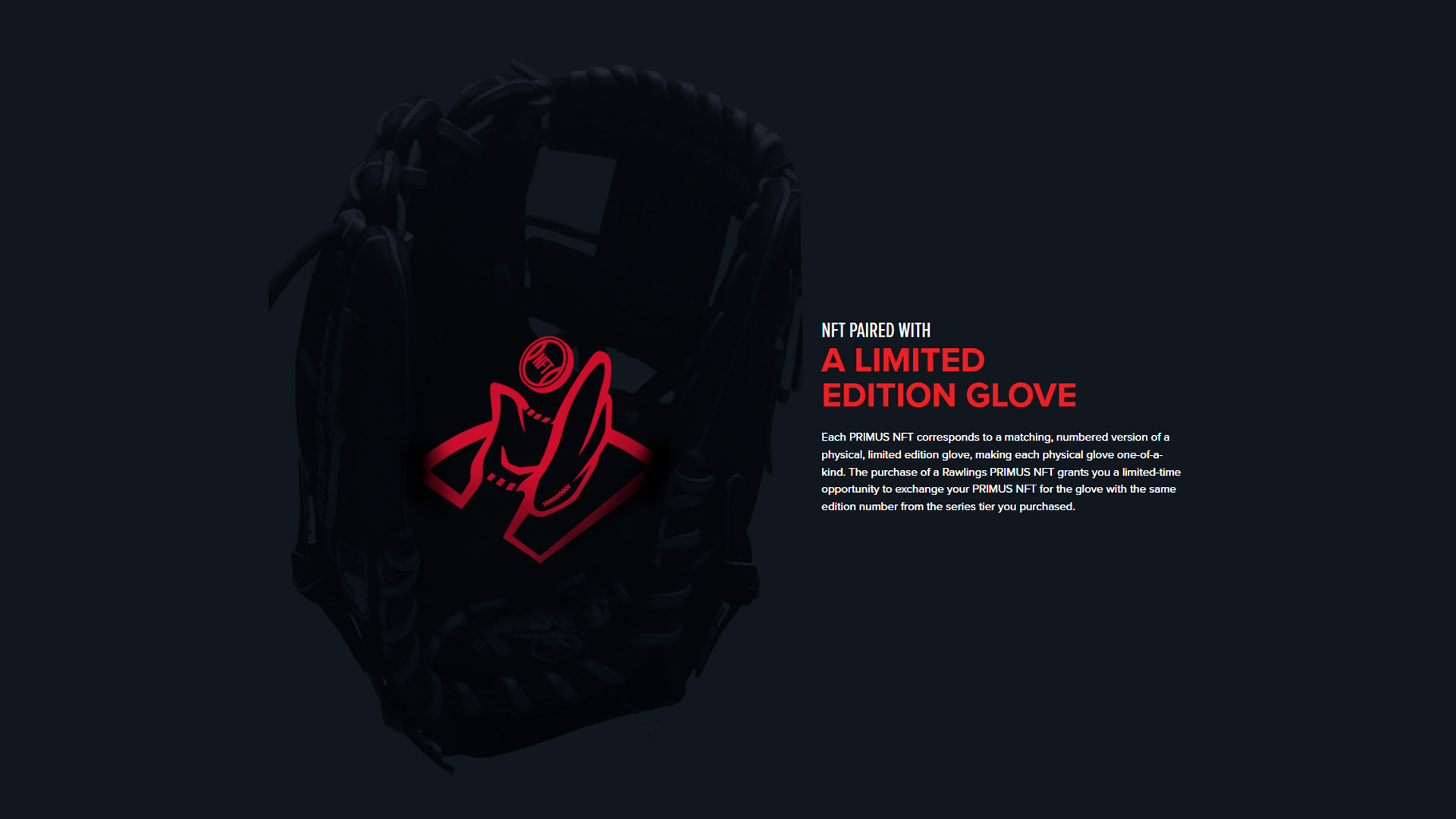 And finally, Dream Syndicate provided management and support for the project from start to finish.  We maintained schedules, ensured delivery of milestones, engaged with 3rd party vendors, and supported customers – helping resolve questions or issues, even going as far as helping non-web3 savvy buyers who purchased PRIMUS NFTs through the Rawlings website with digital wallet creation and glove redemption assistance.
The Rawlings PRIMUS NFT collection was a new face for a legacy brand, and was embraced whole-heartedly by the passionate community of future-minded baseball glove enthusiasts and NFT collectors alike.  PRIMUS NFT sales are over, but you can score your own limited-edition Rawlings PRIMUS NFT on the second-hand market at OpenSea.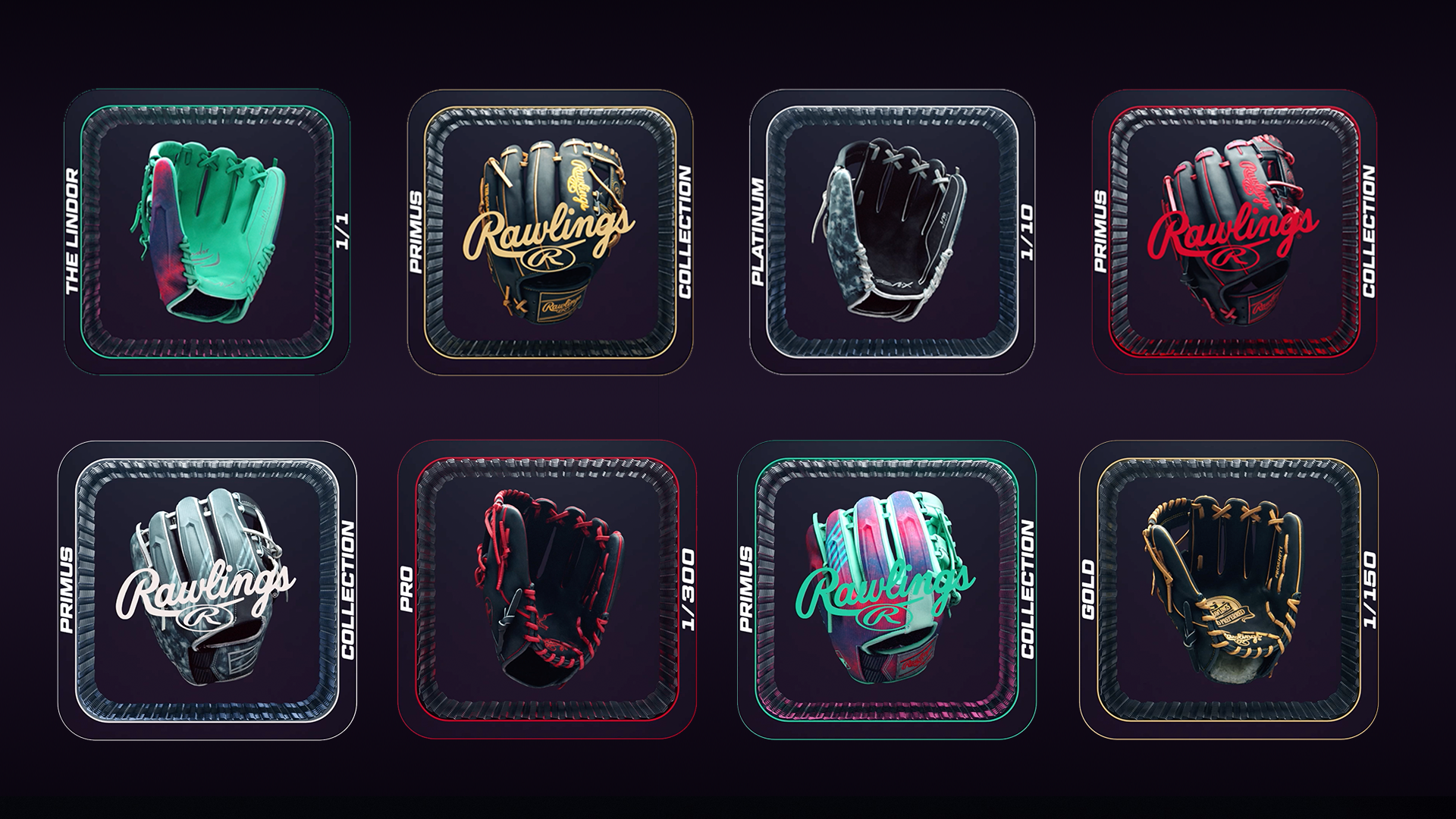 Dreaming is an act of pure imagination, attesting in all men a creative power, which if it were available in waking, would make every man a Dante or Shakespeare. – H.F. Hedge