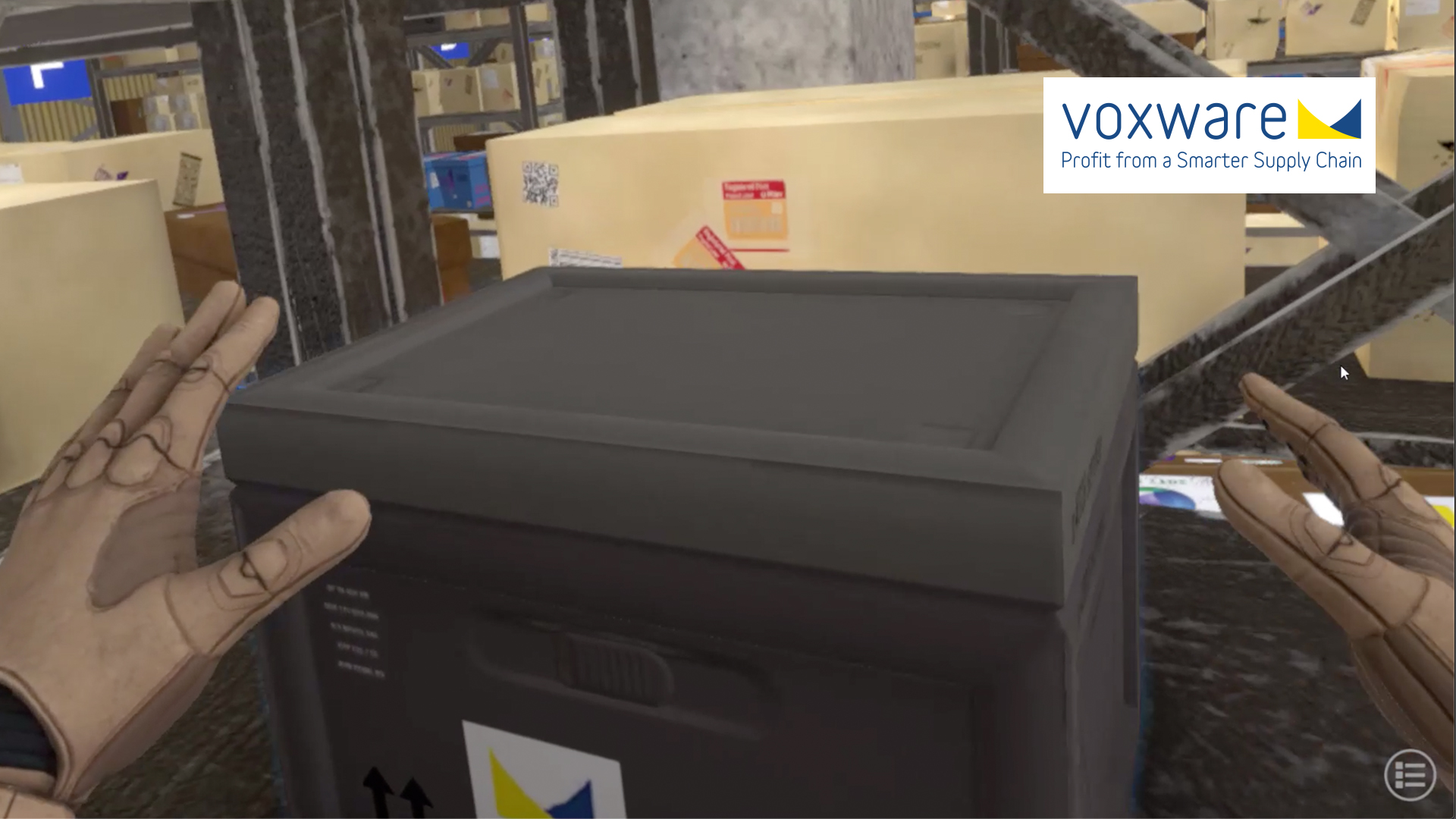 Voxware VR
Modex AR Virtual Reality Demo 
Client: Voxware
How does a forward-thinking technology company demo a state of the art augmented reality enterprise solution?  By building an interactive virtual reality demo of course!
Voxware partnered with ImmersiveXR and Dream Syndicate to take the next evolution of their voice management solution, Voxware Augmented Reality (AR), on the road – putting this powerful technology into the hands and headsets of people on the outside of the bustling logistics chain.  Voxware AR is a supply chain solution that brings multiple technologies, voice and scanning together with vision and image/video capture — so workers can use the right technology for the task at hand and streamline work throughout the distribution center. AR users wear Smart-Glasses equipped with cameras, microphones and screens that add task information to their field of vision. Rather than having to type in data or operate a handheld device to capture information as they work, AR users simply give a voice command to scan a barcode or capture an image they are seeing. This makes tasks far easier and faster to do, with the highest levels of accuracy.
 But short of building an entire warehouse for every conference and trade show, it became clear that they would need to think outside the box to be able to show how this solution works to potential customers.  It turns out that leveraging another cutting-edge technology was the perfect fit.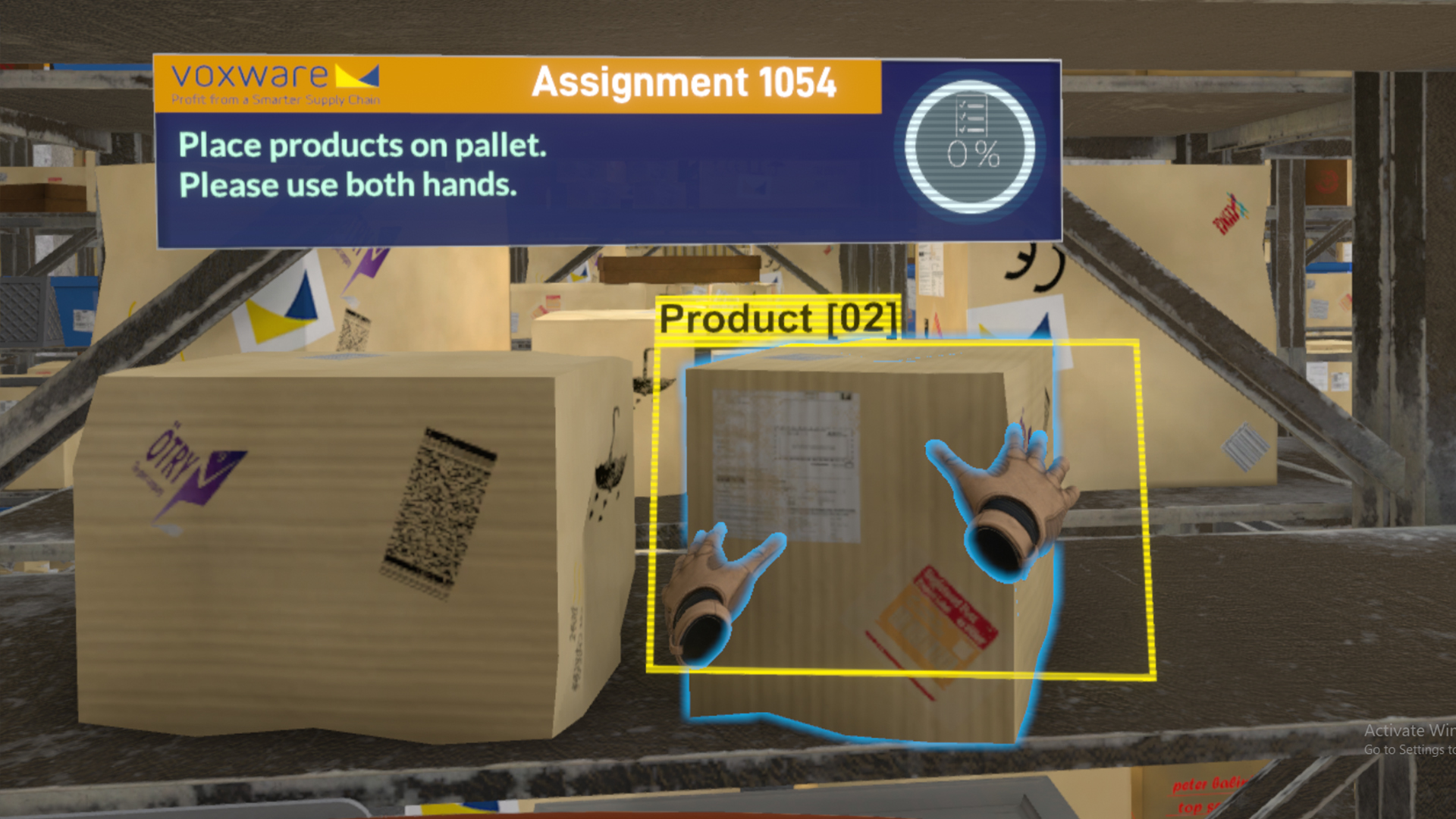 In collaboration with ImmersiveXR we set to work to build a full warehouse full of shelves and boxes, and all the details one would expect to see up close and in-person, albeit in virtual space.  It was important to recreate a realistic space that the user could explore to sell through the capabilities of the Voxware AR solution, to put the user in the same situation as their workforce to really highlight the value.  To drive this point home, and to add a little fun to the experience, we gamified the run-of-the-mill task of "picking" (finding and pulling specific product from the shelves) so that the user can time themselves in a comparison of picking the old fashioned way, i.e. by sight with nothing more than a barcode scanner, versus empowered by the Voxware AR solution.  With Voxware AR clear, optimized directions to the product are overlaid in the users field of vision, and simple voice commands trigger image recognition technology to scan and register the selected product – providing real-time feedback on the correct box and exactly how many of them to pick.  By putting all this power in a wearable set of glasses, it frees employees to use their hands unencumbered by traditional scanning devices or paper-based logs, and provides clear visual feedback to eliminate any confusion or mistakes.
 Hands down, without a doubt Voxware AR as evidenced through the VR demo was shown to save time, and make the process of picking in a warehouse easier and much more efficient than it has ever been.  Tapping into the potential of Augmented and Virtual reality to drive innovation and change is what sets Voxware apart in their field, and shows how embracing future-forward technologies can position any business for growth well into the future.
Dreams pass into the reality of action. From the actions stems the dream again; and this interdependence produces the highest form of living. – Anais Nin